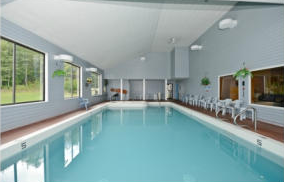 Our heated indoor pool is easily accessible, and located by the lobby. This area also includes our public whirlpool spa. The pool area is open for our guests from 10:00am to 10:30pm daily. Pets are not allowed in the pool area.
Our breakfast room is located in the southwest corner of the parking lot, and is open from 7:00am to 10:00am every morning. Here you will find a selection of hot items, such as sausage gravy, biscuits, sausage patties, bagels, waffles, and toast; as well as coffee, juices, cereals, pastries, and fruit. Pets are not allowed in the breakfast area.
Our guest laundry facility provides access to coin operated washers and dryers, available 24 hours a day. The laundry room is located adjacent to (right side of) the breakfast room, in the southwest corner of the property for easy access. If you need change for the washer/dryer, you can get it at the front desk from 7:00am to 11:00pm.
In addition to the amenities and services we offer here on site, our guests are also invited to step across the street and enjoy the use of additional facilities at our sister hotel, Bavarian Haus Lakefront Inn.
This property has over 700 feet of Lake Huron lakeshore, which is available for your use as our guest. From here, you can view Mackinac Island; watch a great sunrise over the lake and the island; see the freighters, ferries, and fishing boats; play volleyball; or enjoy an evening bonfire on the shore.
You can also spend time in the video game room, and the exercise room, which includes a variety of equipment. These facilities are all located directly across the street at Bavarian Haus Lakefront Inn, you can get directions to any of these facilities at the front desk.
The availability of these additional facilities for our guests adds even more value, making Americas Best Value Inn the best deal for lodging in the area. See images on the Home page.