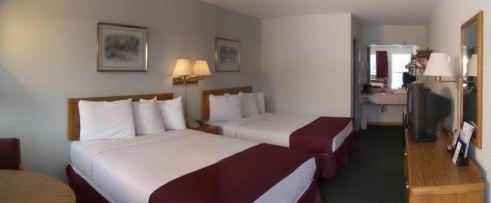 All rooms have queen or king size beds, refrigerators, coffee makers, irons, hair dryers, and cable. Some rooms have in room whirlpools. The breakfast bar is open from 7:00am through 10:00am every morning.
Room Types Include:
Two Queen Beds
One King Bed
One Queen Bed with two person whirlpool spa
Standard Room
Our 'standard' rooms are spacious, with two queen size beds in each room. Some rooms are adjoining. All of our rooms include refrigerators, coffee makers, hair dryers, and irons with ironing boards. Sitting area – table with chairs in every room.
King Room
"King rooms" feature all the amenities of a standard room, but with a single king size bed instead of two queen size beds. Perfect for those wanting a larger bed, as well as more room space.
Whirlpool (hot tub) Room
Whirlpool rooms with queen size beds are also available. Relax at the end of the the day in a heated whirlpool spa in the comfort and privacy of your room. We also have a public heated spa in our pool area available to all guests. All whirlpool rooms also feature a very comfortable recliner. There are two types of whirlpool tubs available, the standard shape for casual relaxation, and the heart shape for those romantic getaways. No matter which room type you choose, all our beds are very comfortable.